Webb's Fruit Roadside Store a Story in Itself
Nowhere is the commitment of Central Otago orchards to local customers and the travelling public better illustrated than by the large number of roadside 'honesty box' fruit stalls – these days mostly EFTPOS terminals. Some are just a few shelves and a couple of sheets of corrugated iron and others almost supermarket size, but Simon Webb reckons the proportions and eye-catching pioneer-inspired design of the Webb's Fruit Roadside Store on the outskirts of Cromwell are pretty much perfect.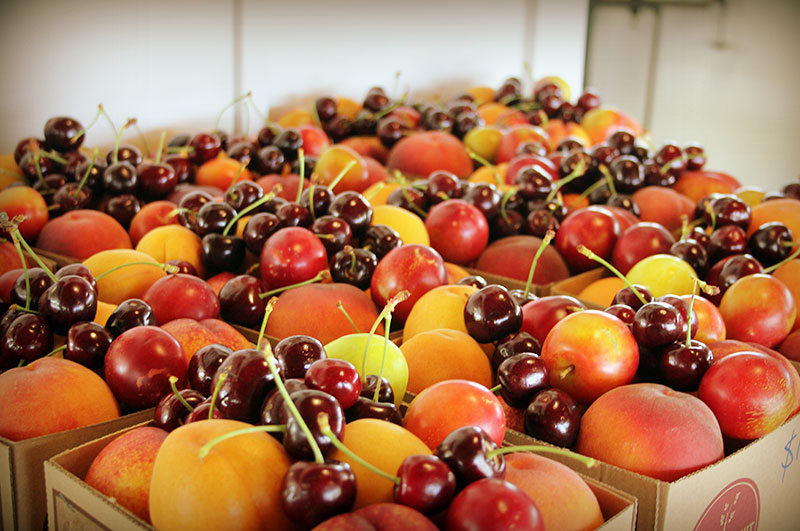 "It's got size without being too big, it's on a 80kph section of Highway 6, the main road between Wanaka and Queenstown, and has a good big pulling out area making it so much safer, especially for children, and with a good old-fashioned wide verandah on three sides, customers and fruit bins are sheltered from that hot Central Otago sun," explains Simon.
Completed in December 2014, the Webb's Fruit Roadside Store was opened to celebrate 100 years of Webb family ownership and as a tribute to Simon's dad, John, who passed away in 2012. In the early 70's, John replaced an old fruit stall with a metal weatherboard structure that could best be described as basic and in need of replacing. All that remains is a Fruit for Sale sign above the customer service counter.
Family history and the history of Central Otago fruit growing are important to Simon and are very much part of the Webb's Orchard Roadside Store experience where clever use has been made of 1950's wooden Lightening brand fruit grading tables and mechanical fruit size sorters to display fruit for sale.
A black and white framed photo shows these in use in the orchard's old packing shed where Simon's Uncle Harry, closest to the camera, and grandad Jack, second from the front, are packing apples into boxes. A framed Apple-Packing Chart from The New Zealand Fruitgrowers Federation sets out how various sized apples had to be arranged in each type of box.
On the wall above the roller doors are a number of historic picking buckets and bags used on the orchard. Overhead hangs a well-weathered 14 foot (4.2m) picking ladder. For safety reasons today's orchard ladders, and the height of trees, are limited to 8 feet (2.4m).
Mounted over the door to the store's fruit packing room are what appear to be 1950's wall art. From the 50's they are, but art they are not. These are fruit sizing rings for gauging fruit sizes on trees. Now plastic rather than metal, sizing rings are still in use today.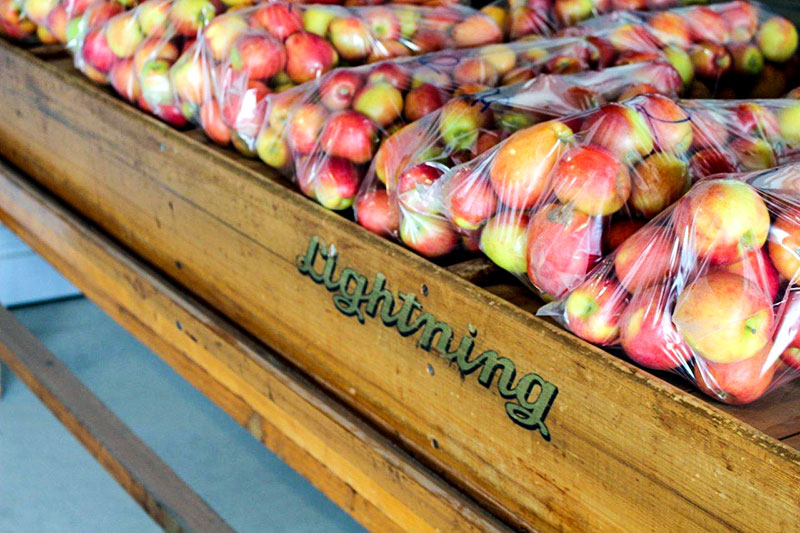 "Before leaving the Webb's Fruit Roadside Store with our wonderful Central Otago fruit," says Simon's wife, Trudi, "remember to pick up some Granny Webb recipes and also a leaflet to remind you that when you get home you can shop at our online store to have Webb's fresh picked fruit sent to you wherever in New Zealand you are."